Keeping a Stiff Upper Brit
by
Chiron O'Keefe

I'll admit to a twisted sense of humor. Quirky movies and black comedies catch my attention every time. Blame it on the
Beatles
(I do quite frequently). The crazy antics of those irrepressible Mop-Tops had me in hysterics:
F
ight Scene from Help.
Since that fateful time my mind naturally associates British accents with zany antics. Today, I'm sharing a short list of some odd and cheeky flicks to check out. We'll start with the light and move swiftly to the dark. Ready?
Recently, hubby and I clicked on the tube and zoomed in on one of the many movies stored in my DVR. The title,
Love and Other Disasters
caused severe eye-rolling in the hubby zone.
"A romantic comedy," he said, his tone clearly adding,
Are you serious?
I shrugged and pointed out that the last movie we'd seen focused on Serbia, automatic weapons and a body count that still makes me shudder. "My turn."
Within short order, the man of the family appeared as enthralled as his romance-loving wife. *grin* This gem of a flick didn't ever garner the attention it deserved despite its pedigree.
Written and directed by Alek Keshishian who is widely known for the documentary
Madonna: Truth or Dare
and produced by David Fincher (director of
Fight Club
) and Luc Beeson (director of
The Fifth Element
)
Lo
ve and Other Disasters
is quite simply a movie about the quest for true love. Brittany Murphy plays 'Jacks', a bubbly assistant of a British
Vogue
who seeks comfort and wisdom from the movie
Breakfast at Tiffany's
. If you're a fan of romantic comedies, put this on your Must See list!
Next up,
Cold Comfort Farm
. Here's the official tag-line:
She discovered a new branch of her family tree... the one with all the nuts.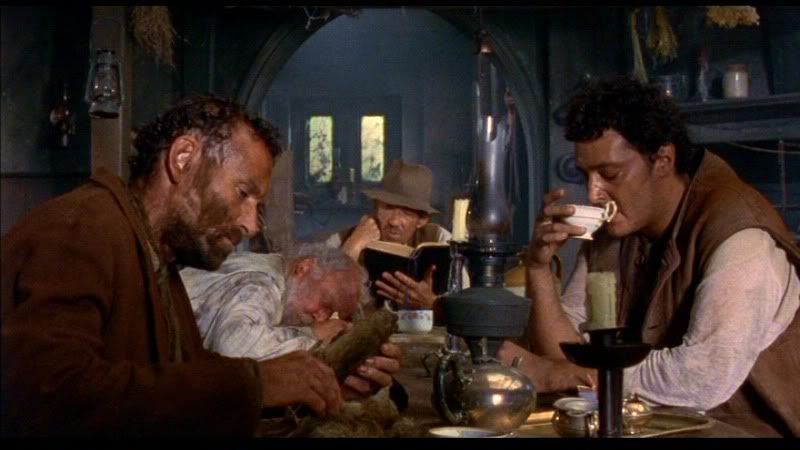 Based on a
novel
written in 1932 by Stella Gibbons, the tale follows the fate of a newly orphaned young woman who seeks out relatives to provide for her. Far from living the lifestyle to which she was accustomed, the brutish and slightly crazed inhabitants of Cold Comfort farm are existing under a long-standing curse. With British sensibility, our heroine sets about to make things right with hilarious consequences.
This flick is one you can't turn away from. The offbeat and riveting humor is bolstered by a story both sweet and charming. Some have noted this parody of British manners is heavily influenced by novels both past and of the thirties, even comparing similarities to Emily Bronte's
Wuthering Heights
. Although produced in 1995, the film is set in the thirties, aligned with the book's original premise.
Hopping swiftly along our twisted path, let's brace ourselves for the screamingly funny,
Death at a Funeral
.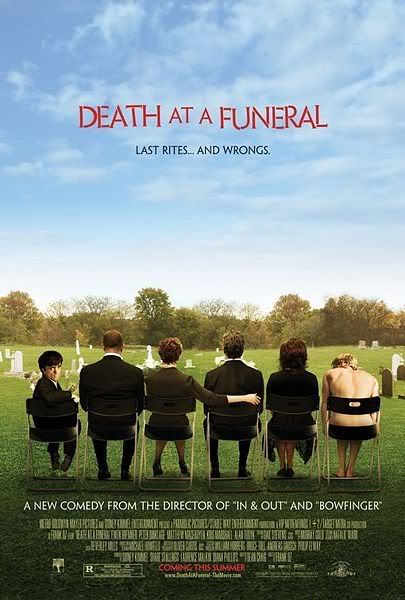 The 2007 British black comedy directed by
Frank Oz
with screenplay by
Dean Craig
, focuses on a truly dysfunctional family attending the funeral of the beloved patriarch. Look for
Jane Asher
, one of Sir Paul McCartney's early girlfriends as Sandra. I can't begin to do justice to this film, as each riotous moment just leads to another. Suffice to say, Hollywood couldn't resist and in a lightning-speed turnaround, a remake is already in production due out in 2010. Just to whet your appetite, here's the trailer for the original.
Another wacky and decidedly black comedy is
Keeping Mum
starring Rowan Atkinson, Kristin Scott Thomas and Maggie Smith. Since our heroine is a convicted murderer released after serving her time and is now a housekeeper for the hapless vicar, one can only expect some frightfully hilarious escapades to ensue. The body count rises causing the audience to gasp, while stifling giggles.
Here's your sneak peek:
The next and last film has to be included if for no other reason because it features zombies. *grin* Just kidding. Not about the zombies though. *cough*
Anyways,
Shaun of the Dead
is a 2004 British romantic comedy zombie film (yup, you read that correctly) directed by Edgar Wright, starring Simon Pegg and Nick Frost, and co-written by Pegg and Wright. Truly a bizarre spoof on such cult films as
Dawn of the Dead
(I'm assuming since I could never bring myself to watch the originals!), this flick starts off in the best way possible. With absolutely clueless heroes who are blithely oblivious to the horrors around them.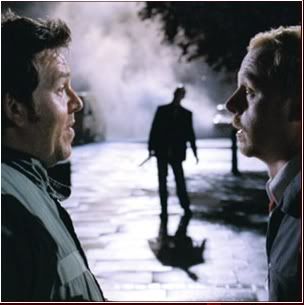 While this may be the blackest of comedies around, it's not for the faint of heart. In typical horror fashion, the blood spews in buckets and so, if the sight of brain-eating zombies with limbs torn off is not your particular cup of tea, it might be wise to avoid this one. Just saying. *grin*
To catch a glimpse without having to commit to the whole corpse-ridden film, just watch the sneak preview. Or not. I'm just saying!
Any fans of eccentric Brit humor out there? Perhaps there's a flick or two you're dying to recommend. *wink* Do share!
--Chiron O'Keefe
The Write Soul:
http://www.chironokeefe.blogspot.com/
Photos courtesy of Photobucket.