by Kayla Perrin
The world is gripped with soccer fever right now. Men and women are obsessed with the
World Cup
. But it doesn't take much of a search online to see that many women are just as obsessed with seeing soccer players with their shirts off as they are with seeing them score goals.
"Shameless Objectification" one blogger called it, as she posted picture after picture of shirtless soccer stars. Designers are utilizing soccer stars to promote their clothing--and underclothing--as is the case with
Armani
and Portuguese soccer superstar,
Cristiano Ronaldo
(in picture on the right) who recently posed in Armani boxers and briefs, showing off his off-the-field attributes. And
Dolce & Gabbana
has featured s
ome hot Italian soccer players in some of their underwear ads as well.
Quite frankly, I'm all for shameless objectification. If you're one of my
Facebook
friends, then you probably know all about my "Sexy Fridays." It started last year when I began posting pictures of my soul mate (ha!),
The Rock
, on my page--and the women were loving it. Soon, they were asking for photos of hot stars and other hot men daily. For about three weeks, I was able to keep up with the demand, but eventually decided it would be better if I kept the photos to once a week. Hence, Sexy Fridays was born.
As for soccer, I can honestly say I am much more interested in the sport after seeing some of the pictures of men like Italian
Fabio Cannavaro
on the left (who plays for
Real Madrid
), and
Oguchi Onyewu
(whew!) who is American born but of Nigerian heritage. Check out the hot picture of him below on the right! That picture of his magnificent form was a hit as one of my Sexy Fridays "soccer edition" photos.
When I say I'm all for shameless objectification, I'm s
peaking of men (of course)! And feel free to disagree with me--or if you're truly offended, click off of this page now--because yes, I am shamelessly objectifying hot men!
Here's the thing. There aren't enough ads or pictures with hot guys when you're out and about. It's easy to see women in skimpy underwear, tight outfits, and overdone makeup when you're driving, looking through catalogs, or shopping. Not to mention while watching some music videos, where the women barely wear anything. There is no shortage of photos or videos of beautiful women for men to enjoy. We can debate some of those ads/movies/videos...especially how they might appeal to young girls and their self image...but that is the topic for another blog. I guess my bottom line point is that when it comes to the objectification of men, my sense is that it's more about fun and appreciation as opposed to exploitation.
I think--for the most part, anyway!--that women can see a picture of a beautiful man, and appreciate it without thinking about getting naked. This isn't always the case with men when they see pictures of beautiful women. But again, this is a topic for another blog! However--here's something interesting. I "lost" one of my male friends on Facebook because he was unhappy that I was posting pics of hot men. He emailed me to ask, "If I were to post pics of hot women, wouldn't people think I was sexist?" I told him that it was simply fun, that my readers were loving it, yada yada. He unfriended me anyway--and this is someone I knew for years in the film biz! That said, he was always a bit of an oddball. And he certainly wouldn't look like Dwayne Johnson without his shirt on! Okay, retracting claws now, LOL!
So here's my serious question--do you think that "objectification" is equal? Is it the same when hot pics of men and of women are posted/displayed for the opposite sex to enjoy? Or is there a difference?
And if you have no opinion whatsoever, I hope you've at least enjoyed these ph
otos!
Lastly, I can't end this blog post without mentioning the one year anniversary of the death of the King of Pop,
Michael Jackson
. And without posting a photo of him from the
Thriller
era when I fell in love with him. That's when my shameless objectification of men began, because I had posters of Michael Jackson on the wall that made me swoon! And he definitely had a sexy magnetism every time he stepped onto the stage.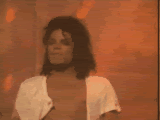 I wasn't sure how I would feel on the anniversary of his death, but when it came on Friday, I found that I didn't want to hear the news stories about him, that all of that just brought me right back to that day. Once again, I found myself wondering why I was so profoundly affected by the King of Pop's death...and I guess it's as simple as he was my first crush. And the one thing that didn't change as the years passed was the way his music moved me. So that's what I cling to when I don't want to remember his untimely passing...the music he left us, and his incredible legacy.
Here is Michael Jackson performing THRILLER in 1987!
Until next time,
Kayla