FREE Irish Kiss for you! #ebook is #FREE in most ebook stores.
By
JoAnne Kenrick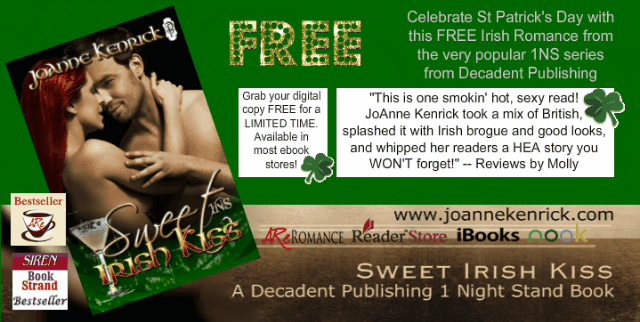 Sweet Irish Kiss is apart of Decadent Publishing's 1 Night Stand multi-author series.

The series is based around Madame Evangeline's match-making skills. A woman to be reckoned with, and owner of a highly successful matchmaking service; put the right two people together for just one night and anything is possible. Especially when the dates take place at the fabulous Castillo Hotels and Resorts in some of the most exotic places in the world. For more on Madame Evangeline.
BLURB
Rachel Taylor has issues. Her father broke her mother's heart with his cheating and Rachel swore never to let that happen to her, but one ruined relationship after another and she's realized she's got to get over being closed off to men. Perhaps a one-night stand is just the baby step she needs to begin to build trust again.
Shaun Bell, a divorced workaholic, spends all his time tending bar in his Irish Pub. He's ready to love again, but the women who visit his bar are only after his infamous Irish cocktails. At the advice of his darts team, over a tanker or two of Beamish, he applies to 1Night Stand to get back into the swing of things and enjoy the company of a woman specially selected for him by Madame Evangeline.

A match seemingly made in heaven...until morning rolls around and Shaun can't bring himself to say good-bye. Can he win her over with his secret weapon, a Sweet Irish Kiss, or is Rachel still too scared to love?
Your Panties will be bunching and you will be sitting on the edge of your chair to wait and see what goodies Shaun has packed in his overnight bag ** grins **"

-- Kat, Pageflipperz
GRAB YOUR COPY FOR FREE TODAY! LIMITED TIME OFFER TO CELEBRATE ST PATRICK'S DAY! AVAILABLE IN MOST EBOOK STORES...






99c
77p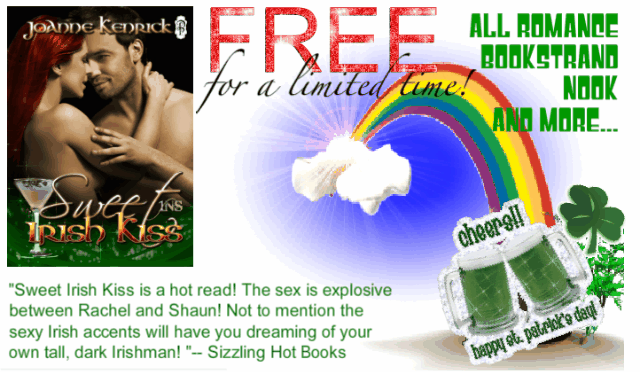 Book Trailer Full Screen| Book Trailer Playlist
"Ms. Kenrick's writing style flows nicely throughout the story. Her attention stays more on the characters rather than the setting which is fitting for the genre of the novella. I like her ability to dig deep within the characters feelings allowing them to step up and tell their story. It is as if the author really took the back seat on this one. Very well written indeed! JoAnne Kenrick knows how to write unique, if not quirky, characters that stay with me long after I've finished reading their stories."

-- Talina, Night Owl Reviews
EXCERPT:
This Sweet Irish Kiss excerpt has been edited to make it a PG-13. Please keep in mind that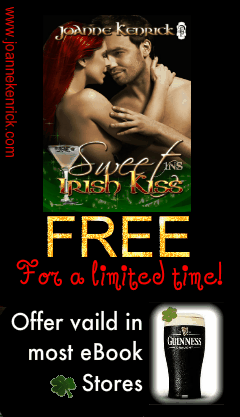 the full story has a 4 flame rating and is therefore NOT suitable for minors.
I can't believe I did that. What a great first impression. Not! And only I could top it off by going all defensive on his ass. Poor guy looks like a rabbit caught in the headlights. At least he was a gentleman about it, though. Had any of my exes seen me go down like a ton of bricks, all Nia Vilvados style, they'd have pissed themselves laughing and grabbed their cameras. I'm the character who gets caught up in headphone wire when she sees a hot guy in that movie...Fat Greek Wedding, Big Fat Greek...whatever. I know what I mean.
Rachel shuddered. She'd fallen flat on her face because the hunkiness of her one-night stand had taken her by surprise. She hadn't expected it. Not in the least. Average, that's what his profile had said. It's why she picked him. She figured he wouldn't be up himself. Most attractive men who know they're hot behave like monkeys in heat because of it. She wanted a man who would be thanking his lucky stars to have her in his arms, and one who would be romantic and polite. And when he rushed to help her, he'd surprised her again.
Drop dead gorgeous and caring? This could be dangerous.
"Ya feeling better now?" Thick Irish accent, smooth like Baileys, coated each word her one-night stand spoke.
"Uh-huh." She glanced up at his welcoming expression and caught her stare in his. "So, you're Irish?" You're Irish?
He quirked his mouth into a grin as if she amused him. She reminded herself that she wanted this and backed up. She sat on the nearest thing to her, a dining chair from the breakfast for two set, and chewed at her freshly manicured nails. She couldn't remember the last time she'd felt this nervous. Her stomach flip- flopped around the butterflies dancing in her gut.
"Ya, that a problem?" God I love his Irish brogue.
"Listen, Shaun, I'm sorry about the way I came down on you. I mean, not came down on you. Hell, I...I'm sorry for losing it." He raised an eyebrow. "For biting your head off when you tried to help."
"Hey, I get it. I'm not what ya expected." Shaun, hands firmly rooted in his pockets, shrugged his shoulders. "Ya definitely not what I expected, either, but here we are. We can call it a day if you prefer or we can enjoy the rest of the evening. What do ya say? I can leave if ya like. The hotel room's been paid for, so ya can spend the night and make the most of it. I'll leave ya be, so I will. But I'd rather stay here...with ya."
Her stare locked on Shaun, and she watched him grab his bag from the foot of the bed and stride toward the exit. His muscular frame, dark features, and great sense of style had her knees knocking together. She couldn't remember the last time she actually wanted a man. But it wasn't like she'd chase after him. The day she did that would be the day she forgave her daddy, or
rolled over dead. The latter was more likely to happen first.
JoAnne Kenrick
JoAnne Kenrick, an ex-Ghost Tour Guide turned Romance Author, is a Welsh lass who has lived in various countries around the world. She now calls North Carolina her home, where she lives with her husband, two children and a lazy cat. When they aren't demanding her attention, she can most likely be found watching a vampire movie, reading or baking up a British favorite in her N.C. kitchen. That is, when she isn't writing or chatting up a storm on social networking sites.