Ultimate Christmas Romance #ebookhaul #holidayromance #holidays
by
JoAnne Kenrick
It's Christmas Eve! WOOT. Perhaps you've asked Santa for an eReader to placed under your tree? Or you're hoping to find some time to read a festive story during your break. Hey, you deserve some time to put your feet up -- it's been a long year, and you've worked hard!
Whatever your reason for stopping by, I hope my eBook shopping list helps you find a most excellent holiday read for your Christmas break....
By Anna Stefano, Christmas on Mimosa Lane is on my Kindle Fire...and apparently, I'm not alone! An amazon bestseller, and a USA TODAY bestseller.
KINDLE & AUDIO & PRINT
At time of purchase, this was 1.99. And the audio, too. (yes, I have BOTH versions)
However, I'm not sure how long that great price will last. It is listed as 9.99 before offer.
Anna DeStefano presents a touching Christmas story about love, loss, and healing—and the joys of coming home.
http://www.amazon.com/Christmas-Mimosa-Seasons-Heart-ebook/dp/B0085MNR0U
Gnome for the Holidays by Jennifer Zane. Okay, so...in all honesty, how can any romance fan leave a book on the shelf with a title like that? Too clever and cute!
At time of purchase, this was 99c. Prime members can borrow for free.
This is a 'Between The Books' Novella for the gnome series. A short (10,000 word) and not-so-sweet Christmas story, just in time for the holidays!
http://www.amazon.com/Gnome-Holidays-Novel-Series--ebook/dp/B00A40ZR40
Santa's Executive by Carrie Ann Ryan is apart of the Montana Holiday series. The cover sold me on this book... nothing saying holiday fun like a snowy scene and a hottie to keep you warm.
At time of purchase, this was 2.99
Warning: Contains a perky elf who dreams of something more, a Christmas myth who may be a baddie, and a sexy ex-bad boy who craves Christmas cookies...and a certain perky blonde.
http://www.amazon.com/Santas-Executive-Holiday-Montana-ebook/dp/B00AG3A0GU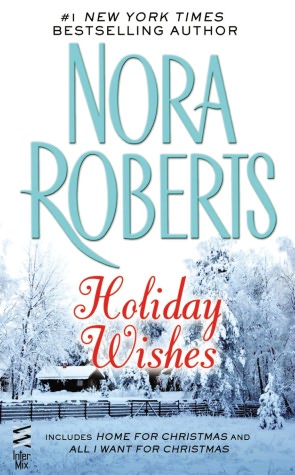 I'm sure this author needs no introduction...
From #1 New York Times bestselling author Nora Roberts come two heartwarming Christmas stories of love and holiday magic.
At time of purchase, this was 6.99
http://www.amazon.com/Holiday-Wishes-ebook/dp/B007P7HTSW
From Entangled new line, Dead Sexy... a christmas thriller.
At time of purchase, this was 2.99
Westbrook Department Store's Christmas party wasn't that wild--until, that is, Santa ended up dead. Now window designer Shelby Corbin is the prime suspect in his murder, and the holidays are anything but festive. If Shelby doesn't figure out who killed Santa, she'll be ringing in the new year behind bars.
http://www.amazon.com/Holiday-in-Crimson-ebook/dp/B00AAK28JQ
Eden Bradley, and the Smutketeers, always put out excellent stories. Mesh that with a very popular Christmas story...sounds like a winner! Smutketeers Present A Kinky Christmas Carol book one.
At time of purchase, this was 2.99
Warning: Contains all ingredients for the perfect kinky holiday: Three men demonstrating blow-job techniques—on each other—because the author couldn't resist. Neither can Holly. Neither will you. A little sensual domination, because Ben can't resist. Neither can Holly. Or Justin. Or Kit. Put it all together with some Christmas magic and mix—vigorously. Served hot. Best enjoyed with a side of sex toys.
http://www.amazon.com/Scrooged-Smutketeers-Present-A-Christmas-ebook/dp/B00ALOIZP2
Pirates and Christmas! I'm so there! Pirate Lady Holiday by Kate Richards.
Aboard the Pirate Lady, Clara's Christmas is not looking too merry. She tries to lift her spirits with a little holiday baking, but until tattooed rocker, Hot Jack Slick, traveling incognito, arrives on the scene, it looks like Clara's not going to find any spirit in her holidays.
At time of purchase, this was 1.99
http://www.amazon.com/Pirate-Lady-Holiday-ebook/dp/B00AC8AOWY
Christmas sweaters, billionaires...and a baby. All the ingredients for a Hallmark moment. Can't wait.
At time of purchase, this was 2.99
A baby on the doorstep is the least of Hannah Woods's problems—she has to find the baby's uncle, or the child will end up in foster care. She sleuths her way to the reclusive CEO's doorstep only to find six feet of holiday sexy—and a door slammed in her face. But when Jackson comes around and urges they marry for little Emily's sake, Hannah finds herself falling for the jaded billionaire and wishing for a holiday miracle of their own…
http://www.amazon.com/The-Billionaires-Christmas-Baby-ebook/dp/B00AA3P3WW
From the mega bestselling author, Jennifer Probst, Holiday Hoax.
At time of purchase, this was 2.99
Isabella Summers is shocked at the sexual attraction she feels for the rude worker on the Christmas tree farm. But when he shows up at a friend's party and seeks her out, she finds she no longer wants to fight their attraction...but she never counted on love with a stranger carrying a secret.
http://www.amazon.com/The-Holiday-Hoax-ebook/dp/B00A447GB8
A Carina Press holiday anthology --
Anthology includes:
This Time Next Year by Alison Kent
A Rare Gift by Jaci Burton
It's Not Christmas Without You by HelenKay Dimon
Mistletoe and Margaritas by Shannon Stacey
At time of purchase, this was 7.49 (FYI audible version is the same price)
http://www.amazon.com/Holiday-Kisses-Gift%5CMistletoe-Margaritas%5CIts-ebook/dp/B005Z18F60
Jodi Redford's The Naughty List. And judging by this cover, being on the naughty list never looked so tempting! hehe
Makin' a list, and rocking it…twice.
At time of purchase, this was discounted to 2.99
http://www.amazon.com/The-Naughty-List-ebook/dp/B005F0WR88
Family problems at Christmas go hand in hand... Christmas in Dogtown by Suzanne Johnson
At time of purchase, this was discounted to 2.99
Resa Madere's on the verge of losing it all. The boyfriend's gone. The job's history. Her beloved house is on the brink of foreclosure. She'll do anything to save it--even spend a long Christmas holiday working in St. James Parish, Louisiana, helping her uncle run the family meat business. But the community of Dogtown, which has been home for seven generations of the Madere and Caillou families, has deep roots and deeper secrets. For Resa, going home is one thing. Getting out might not be so easy.
http://www.amazon.com/Christmas-in-Dogtown-ebook/dp/B009RBKTSG
Phew... I bought a lot of romances for the holidays...but this is my favorite sub-genre, so think of it as me stocking up for the year ;)
And this is just a small portion of holiday books available to purchase this year. My goodness, it's like Christmas threw up all over ebook stores! Don't you just LOVE IT! WOOT
Here's some more to consider adding to your cart on this fine Christmas Eve!
Naughty List
He's willing to do anything to make Callie happy, including take on the role of dominant Santa Claus and spank her to a blow-your-stockings-off orgasm
http://www.amazon.com/Naughty-List-ebook/dp/B006K52XZ
Christmas with a Scoundrel
Tyne Sweeten found herself on the wrong side of the boss's desk being fired just before Christmas.
http://www.amazon.com/Christmas-With-A-Scoundrel-ebook/dp/B006T8G4KC
Reindeer Games, Cupid
As a postman by day, and one of Santa's reindeer on a single very special night, Cassius Cupid eats, sleeps and breathes deliveries. He doesn't mind, but sometimes wishes that someone would send him something more exciting than bills and junk mail.
http://www.amazon.com/Reindeer-Games-Cupid-ebook/dp/B00APKKMEE
Reindeer Games, Rudolf and Dancer
Will this Christmas be as lonely as the rest? Or will Paul and Donna finally find holiday bliss in each others arms.
http://www.amazon.com/Reindeer-Games-Rudolf-Dancer-ebook/dp/B00APMN1HW
Two Men & A Virgin
Andie's first trip to the 49th state is not just for sightseeing. She's emptied her bank account to bring the two men of her dreams to Castillo Lodge, in Castle, Alaska for a Christmas Eve date of a lifetime.
http://www.amazon.com/Virgin-Night-Stand-Series-ebook/dp/B00ANEKT86
Holly's Healing
http://www.extasybooks.com/hollys-healing/
They're everything she has ever wanted. But to get them, she just has to do the near impossible first.
Home Fire's of Christmas by Lee Ann Sontheimer Murphy
http://www.amazon.com/Home-Fires-of-Christmas-ebook/dp/B00AFN3JBE
The Christmas Village by Elysa Hendricks
http://www.amazon.com/The-Christmas-Village-ebook/dp/B009FN83NE
Transported to a fantasy world, she falls in love with a man in her dream.
1225 Christmas Tree Land by Debbie
Macomber (discounted to 1.99)
http://www.amazon.com/1225-Christmas-Tree-Cedar-ebook/dp/B008X4BEC8
As always in life—and in Cedar Cove—there are surprises, too. More than one family's going to have a puppy under the tree. More than one scheme will go awry. And more than one romance will have a happy ending!
Harlequin Holiday Collection (FREE)
http://www.amazon.com/Harlequin-Holiday-Collection-Season%5CEvidence-ebook/dp/B006CT0J0E
Discover these four classic seasonal novellas:
And a Dead Guy in a Pear Tree by Leslie Kelly - Seduced by the Season by Merline Lovelace - Evidence of Desire by Debra Webb - Season of Wonder by Marta Perry
HAPPY HOLIDAYS! HOPE SANTA BRINGS YOU MORE THAN A LUMP OF COAL... after all, naughty girls deserve to be spoiled over Christmas, if not more so than the average good girl ;) just saying, Santa (hey, you never know when he's watching - he might see this!)
NEW RELEASE FOR JOANNE KENRICK
For trailer, excerpt and more click HERE
Hot winter kisses to warm broken hearts….
Sick of tending to everyone else's needs around the holidays, divorced barmaid and granny Sandra ferries it from London to Belfast. All she wants for Christmas is some peace with a romance story in front of a roaring fire in a remote Irish castle. What she gets is a most unexpected Christmas present from her friends at Bell's—A 1Night Stand with a young Irishman.
Can she hack it in the real world of romance, or are life's complications and treacherous snowstorms best left to the pages of a book?
Newly widowed Ardan Draighean owns Ballygalley castle. Once run as a hotel with his late wife, the stone building now serves as a home for him and his son. After hearing about Madame Eve's matchmaking skills, he contacts her in search of the perfect match. Although much older than him—by fifteen years—Sandra is his ideal woman. He be damned if he'll let a good story get in the way of his happy ever after with her.
Hot winter kisses are all this couple needs to stay warm this Christmas, but will the heat stay long after the magical season of mistletoe has finished?
Read any holiday books? BUY ANY CHRISTMAS BOOKS? GOT A HOLIDAY ROMANCE RELEASE OUT THAT WASN'T FEATURED? Feel free to add in the details below for us all as laid out here;